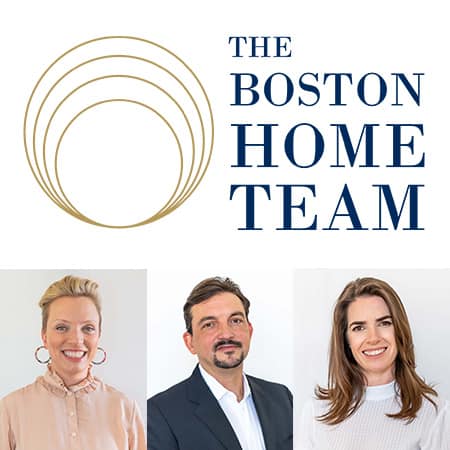 Beth Maguire, BJ Ray, Meredith Smith
BJ Ray

Hometown: Lynn, MA | Currently lives: Roslindale | Real Estate Strengths: Market data analysis and pricing evaluation. Negotiating the win-win. | Why I love real estate: Working with new and different people all the time keeps things fresh and exciting. Fostering creativity through problem solving and marketing. | After-school Activities: Saturday morning hikes with family. Hosts a monthly poker game. Plays chess & other games of strategy (including Catan). Did 3 triathlons in [...]
BJ Ray

Hometown: Lynn, MA | Currently lives: Roslindale | Real Estate Strengths: Market data analysis and pricing evaluation. Negotiating the win-win. | Why I love real estate: Working with new and different people all the time keeps things fresh and exciting. Fostering creativity through problem solving and marketing. | After-school Activities: Saturday morning hikes with family. Hosts a monthly poker game. Plays chess & other games of strategy (including Catan). Did 3 triathlons in 2019--planning for 4-5 in 2020. Loves to cook for his wife & two kids. | Go-to Karaoke: "Werewolves of London" - Warren Zevon | Local claim to fame: Drummer for The Bella Lunatics, 3-time JP Bar Wars band champions

Meredith Smith

Hometown: Middlesboro, KY | Currently lives: Somerville | Real Estate Strengths: Matching people with places, paying attention to the details, considering all the angles, and boiling things down to their essence. | Why I love real estate: This is an industry where you get to figure out the best way to run your business, which is challenging and deeply gratifying. And it offers the opportunity to engage with people from all walks of life. There is never a dull moment and no deal is the same. | After-school Activities: Teaches Barre & Yoga at Healthworks Cambridge. Hospitality officer Temple Shalom Garden Club in Newton. Recharges by working in the garden, eating (home cooked or out on the town) and gathering with friends close to home or in far away places. | Local Claim to Fame: Hostess of Boston's best Kentucky Derby Party Go-to Karaoke: "Buffalo Stance" by Neneh Cherry |

Beth Maguire

Hometown: Falmouth, MA | Currently lives: Roslindale | Real Estate Strengths: Resourceful and thorough, guiding clients through the steps of a transaction never gets tiresome, high communication, an enthusiasm for basements, and a voice of calm during an often daunting process. | Why I love real estate: The two simple reasons anyone might be drawn to real estate: helping people and a fascination with houses. Discovering what excites people about their homes and neighborhoods. Finding endless opportunities for learning and growth, working with people from all backgrounds. It's truly never boring. | After-school Activities: Jogging around Jamaica Pond, hiking, reading, thrifting. Summers in NH & the Cape, winters at home in front of the fire playing games with family. | Go-to Karaoke: It's been a while but she once pulled off Louis Armstrong's What A Wonderful World. | Local Claim to Fame: Beth met her husband Greg while both were working at MSPCA-Angell in 2007. Their daughter's middle name is Adelaide, after the JP street where they once lived.

Beth Moloney

Hometown: Jamaica Plain, MA | Currently lives: Providence, RI | Real Estate Strengths: As the owner and landlord of a triple decker, she's no stranger to the ups and downs of ownership. She also has a sharp eye for details and keen sense of humor, honed after spending more than twenty years as a professional Stage Manager both off and on Broadway. | Why I love real estate: Tackling the unique situations that each deal presents and cultivating a positive result is never boring. | After-school Activities: Bike riding with her second grader, baking, and camping with her family. She has a Certificate in Photography from RISD and is currently trying to teach herself to speak Irish. Go-to Karaoke: She's never done Karaoke but if she did, she'd probably pick 'Not Too Soon' by the Throwing Muses or 'Gigantic' by the Pixies. Local Claim to Fame: She still has her commemorative token from the inaugural ride of the "new" Orange Line in 1987.
Office Location
673 Centre Street
Jamaica Plain, MA 02130
Specifications
Languages:
Specialties:
Service Area:
Boston's Testimonials
BJ Ray is a true professional in every sense of the word. When working with BJ you can expect access to the most cutting edge analysis of sales data in the marketplace. If he's assisting you to buy, you can rest assured you will not overpay or if selling, he'll obtain top dollar for you without question. BJ recently helped my wife and I purchase a 3 family in Somerville. At the time we contemplated the investment but fortunately he educated us enough to push forward. Since that time the [...]
Andrew Marquis
We recently worked with BJ to purchase what turned out to be our dream home in Jamaica Plain, and we could not have had a better experience. When we first met BJ, we told him upfront that after a few failed offer attempts in this crazy real estate market, we were becoming the super anxious homebuyer types. BJ was incredibly patient with us, calming steering us through every step of the process. He is the consummate professional - knowledgeable, responsive, insightful- while also being very [...]
dlh7
BJ helped us buy our first home. His knowledge, experience, and instincts made the process much less stressful. He was a great guide and advisor and we'd work with him again if we're looking to sell/buy.
900623leadlag100674241
BJ Ray has been my realtor since the RE crash of 2008. My condo projected had dropped significantly in value and he helped me sell it on my own because of the loss I was destined to have. But I learned from his instruction how valuable a good realtor is. A good realtor brings technical expertise, marketing skills, presentation skills, and his very own positive attitude to the sale. I've haven't found a realtor with better skills. He's always kept ahead of anyone else in using social [...]
frederick vetterlein
BJ was a major asset during our search. He took the time to meet us every week or recapped after open houses if he was showing his own. He gave us amazing feedback and never pressured us to buy anything.
user2745886
I have lived in Jamaica Plain for 12 years and wanted to buy a home in the area. BJ was very patient with me to really find the right fit! He knows Boston and in particular Jamaica Plain VERY well. He was right on around pricing, supportive in the purchase process, and overall very professional. I would highly recommend him--
mollymariano
BJ & team delivered unparalleled customer service during our condo sale. He took care of literally every step of the process before we could even think to ask, was always available, never brushed off my concerns and made us feel like we were in the best possible hands. Thank you!!
Brittany Baldwin
We could not have been happier with BJ and Meredith and the house selling process. From start to finish, they masterfully engineered a phenomenal deal for us and effortlessly brought the deal to a close. They were always 'on it', kept us informed, and had a stress-free game plan that worked perfectly. They are the best in the business - I couldn't imagine having a better outcome with anyone else!
ggreen4
It was a pleasure working with BJ to purchase our first home. He provided lots of information about neighborhoods and helped us learn what to look for in a house. He got back to us quickly and helped us through a stressful negotiation process. I would not hesitate to recommend him to other home buyers.
zuser20140507205442931
BJ and Meredith helped my husband and I sell our condo and we couldn't have had a better experience and better team. We originally tried to sell our condo ourselves, but after two deals fell through, we thankfully found BJ and Meredith. I will never ever not use a realtor again, and in particular, BJ and Meredith. They were well-informed, responsive, and they made an overwhelming process easy. They were patient and just overall fantastic, I highly recommend both of them.
user6992446
Contact
Hi there! How can we help you?
Contact us using the form below or give us a call.
Hi there! How can we help you?
Contact us using the form below or give us a call.