Sophie Matisse is a natural-born artist. As the daughter of sculptor Paul Matisse and great-granddaughter of celebrated French painter Henri Matisse, it's no surprise Matisse found herself in the art field. But she says it's less her family's roots in the art world and more her upbringing that led her there.
Matisse says she did not grow up hearing many stories about her famous great-grandfather, which she believes saved her from "a lot of baggage" and potential pressure to live up to his legacy as a painter.
"I don't think I would've been strong enough to lift that on my shoulders at that time, so I got my roots into my own art," she says.
Matisse, 55, studied art in Paris and developed her own style as a contemporary artist. She says she thinks of her work like a fishing expedition: "always in search of a great catch with lots of daydreaming along the way."
A view of the artist at work.

Matisse now lives in New York and has a gallery on Manhattan's Upper East Side. She works mostly with oil and gouache paint—although she will debut a show this fall at her New York gallery featuring short films along with painted works—and has developed a love for painting on objects.
Though her first professional work with painting objects was in 2008, when she collaborated with perfumer Kilian Hennessy—of the Hennessy cognac family—on a line of perfume bottles, she says she actually first experimented with the idea by painting on her own iPhone.
Since then, Matisse has painted on chess sets, which will also be featured in her fall show, and on four pianos, which were a part of a 60-piano installment in New York organized by the nonprofit Sing for Hope.
"It's nice to kind of melt the lines of the piano by painting, for instance, on the keys," she says about the piano installment project. "The piano almost disappears in the design, so it's kind of like an ambiguous blurring of the lines of the objects and the form of whatever's being painted." While Matisse enjoys the opportunity to paint on new objects, she says she never wants it to be too commercial. She prefers to work on collaborations that allow her to express her own style, which she says is a rare opportunity.
Matisse put great thought into her bag collection.
"I just feel the sense of the preciousness of time in every day," Matisse says. "The days just go by so fast. I want to spend them with something that's more meaningful." Matisse has most recently collaborated with luxury handbag brand Mark Cross, and that partnership has exactly fit the artist's criteria.
She was introduced to the brand by a mutual friend who had the idea for her to paint a limited edition collection of 10 handbags, each with a unique design. "They just said, 'Paint it,' and they just went into the project with full confidence and that was quite nice," Matisse says.
Matisse says her inspiration stemmed from Sara and Gerald Murphy—whose father acquired the company after the death of Mark Cross—and their way of life as expats living in France in the 1920s, entertaining the likes of Pablo Picasso, Ernest Hemingway, and F. Scott Fitzgerald. "I read about their lives," Matisse says. "I thought, 'Oh, wouldn't it be great for Sara Murphy to have a collection of different bags she can bring to different parties or different occasions?' and that's how that started."
The first handbag in the collection mimics an international letter, stamped with Sara Murphy's birthday to suggest "a romantic birthday present" from Gerald to Sara, Matisse says. "It gives way to the series of fantasy bags. . .this sort of romantic, kind of nostalgic feeling," she says.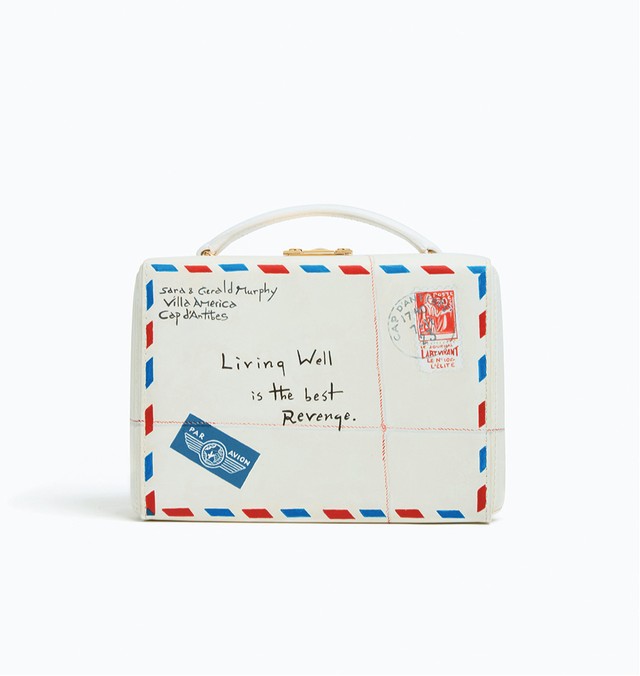 Some of the other handbags in the collection resemble a horse tack and bridle, a nod to the brand's 19th-century beginnings as a leather goods maker for horse and buggy riders. One of Matisse's favorites in the collection, titled For Grace, is painted with pearls and the charms Grace Kelly wore in the classic 1954 Alfred Hitchcock film Rear Window. In fact, all of the bags in the collection are styled after the overnight case Mark Cross designed for Kelly to carry in the film, and the style is named The Grace Box.
The collection was released in late February, and while Matisse isn't sure how many more collaborations she'll do in the future, she is grateful for the artistic freedom she was given. "It was a lovely project," she says. "They couldn't have been nicer and more supportive than they were, so that turned out quite nice. I was happy with it."