Designer twins Dean and Dan Caten, who grew up financially struggling and often bullied outside Toronto then skyrocketed to fame as co-founders of the Milan-based luxury label Dsquared2, have long touted a personal mantra: Born in Canada, made in Italy. These days, add to that beachcombing in Cyprus.
Lean, chiseled, and perennially tan, the Catens, 57, have made an art form of living, working, and playing together. After parlaying a semester at Parsons into a gig as co-creative directors of the luxe Canadian brand Ports International (later Ports 1961), they relocated to Milan, starting their own menswear brand with minimal funds and maximum showmanship. They soon caught the eye of Madonna (they created costumes for her Don't Tell Me video and 2002 world tour), later adding womenswear to the mix.
A stream of celebrity fans followed, from Lenny Kravitz to Christina Aguilera and Rihanna. Known for extravagant runway shows, the brothers found it tough to scale back during the pandemic. (They offered a video presentation of their spring line last September.) But this year they returned to the runway with a men's show in January and women's in February. They spoke to RESIDE® from their showroom in Milan.
What was it like being backstage again after two long years?
DAN: Like it used to be. The adrenaline, the nerves, the excitement, the chaos.
DEAN: We did one video show. It was almost the same amount of work and money, with much less reward.
DAN: There's something magical about a live fashion show, and the energy of the room.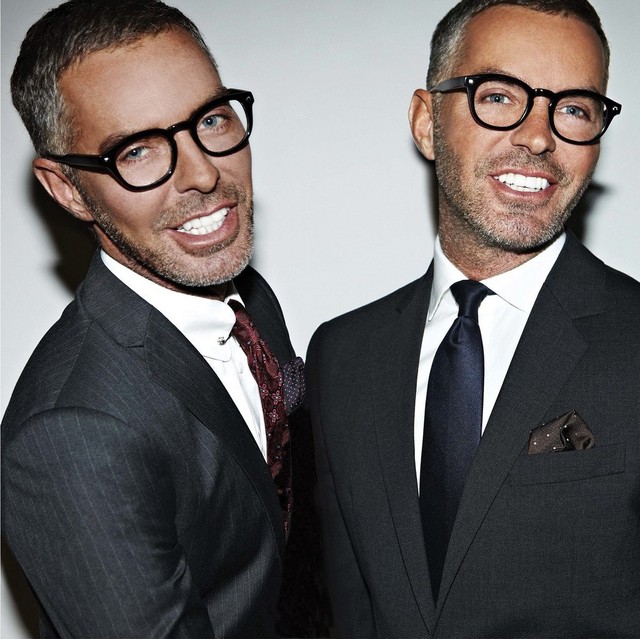 Brothers Dean and Dan Caten founded Dsquared2
Photo Credit: Courtesy of Dsquared2
For your spring line, you had grunge on the brain.
DAN: Spring was like a great hanging out moment.
DEAN: A fairy tale.
DAN: Grungy, yes, but poetic, with laser-cut camouflage that was airy, and these delicate print dresses. It was a bit romantic for us
You also debuted the "Honey" collection, a new size-inclusive line for spring.
DAN: We started it for the American market. There are a lot of curvy girls out there. We wanted to have things that would accommodate all sizes and shapes. We created the "honey fit," which is for voluptuous beautiful girls.
DEAN: It's almost a sexier version of our regular line. These girls are proud of their curves.
Let's jump back to 1991, when you decided to move to Milan. Why there, and not London, Paris, L.A., New York?
DAN: While working for Ports, we spent time in Italy visiting fabric mills. Somehow there was a connection. Our father's Italian. We felt really at home here. We liked the food, the people. So we chose to start our company here. Our father came to Canada to start his life and we kind of closed the circle by coming back to Italy to start ours.
The designers created a spring line that was equal parts "grungy" and "poetic".
Photo Credit: Courtesy of Dsquared2
Did you speak Italian?
DAN: No. Which was another obstacle. But it was a good thing. We could've taken a bus to New York. It's not so far, and if we failed we could just go home. That was too easy. A lot of people said we were crazy. We said, no, we need to do this.
With a move like that, who's the cautious one?
DEAN: We were both ready.
DAN: Dean is the more ready-to-jump guy. I'm more cautious. But I need his energy to know that we'll jump and be OK.
DEAN: Jumping as two is easier than jumping by yourself. And now where's home?
DAN: We're living in Cyprus. We bought a cute historical house in town, which we're renovating. For now we're in a little bungalow on the beach, and made a small studio.
Where's your go-to place in your new home when you're stressed out and need to decompress?
DEAN: Bed. Bed. Bed. Bed.
DAN: We have comfy bedrooms with big fireplaces and televisions. And lots of interesting objects surrounding us. I think our bedrooms are the most personalized rooms in the house.
DEAN: It's very cozy.
DAN: But the next place is the kitchen. It's active, with smells from cooking. It's full of good energy. You can read or look through work at the kitchen table, with a coffee or tea. We sit at a banquette and look out. Very cafe style. It's sunny and always hot. On the beach we run in the morning first thing. A friend of ours does yoga on paddleboards. We say hello to people.
DEAN: It's a real community.
DAN: Then we'll run down to a little coffee shop on the beach and have breakfast. It's a great change of pace. Rather than rush, run, five million people. [He chuckles.] It's very, very relaxing.