Karen Pittman may embrace Los Angeles living, but her aesthetic knows no borders. The objects in her home represent not merely her travels and great taste, but her mindful, empowered philosophy. And she brings that same intention to her roles. Whether you know her as Dr. Nya Wallace, the professor on And Just Like That or Mia Jordan, a no-nonsense producer on The Morning Show, her characters are never predictable and always multilayered. "They're very complicated women," she says. "They're all very accomplished in a way that's very late 20th century, early 21st century, African-American woman."
The same can be said of her latest character. This August, Pittman takes the lead in Hallmark's Unthinkably Good Things, as a woman confronting life's crossroads while surrounded by her best friends in Tuscany.

Photo Credit: Olivia Joan
But, back to her spectacular home, which she designed with a childhood friend. "We decided early on that we were just going to fill the house with things that I really love," she says. Here are her five favorite—and most inspiring—items.
INDIAN BONE INLAY DRESSER AND MIRROR
This Etsy find comes with a personal story. "The mirror was one of the first items that my ex-husband and I bought together, and when we went our separate ways, he got the mirror," she explains. Since then, the couple, who share a son, have become good friends, and the piece made its way back to her. "He's an extraordinary gift to me in my life," she says. Sharing the mirror is a testament to their bond. "It's an object from my personal history with him that I really cherish. It's a thing that we both love, and he had it for years and now I get to hold on to it for a while."


Photo Credit: Courtesy of Karen Pittman
MEXICAN ARTIFACTS
(not pictured)
Another multicultural moment is evident in Pittman's Mexican skull and antique wood box, both of which she got in Cabo San Lucas, one of her favorite places to unwind. "I feel quite spiritually connected to Mexico in a way that is really beyond me," she says. The aesthetic adds another dimension to her decorating. "They're just beautiful pieces that I've picked up and they remind me of going to a place where I feel really safe and at home and at peace," she says.
MEDITATION GARDEN
Pittman, who practices Buddhism, worked to perfect this space with her friend, Martin Flores, who did the landscaping. "I always go out there when there's a big decision to be made," the actress says. The garden grew extra lush over the pandemic. "I had gone to New York to do And Just Like That, and when I came back to L.A., after several months of being away, it had really bloomed." It's not only pretty, but a true respite. "In parts of Eastern culture, there is something called, a quiet room or a one room, where everyone goes for quiet or to read, and where no bickering and arguing or any of that is allowed."

Photo Credit: Courtesy of Karen Pittman
FRAMED BARACK OBAMA ARTICLE
"Listen, you are not a Black American if you don't have a picture of Barack Obama in your house," Pittman says. "No, I'm just kidding, you probably are." The actress took the historic front page of the newspaper to a frame store in L.A. to do it justice. "I have it in my house because it reflects my eternal hope for change," she says. "As an actor and as an artist, you need reflections of optimism and endurance around you. This piece makes me feel very, very much like an American."


Photo Credit: Courtesy of Karen Pittman
HANDMADE GHANAIAN BOWL
Pittman picked up the bowl at a local store not far from the neighborhood Issa Rae explores in the TV series Insecure, which is also her own. "I just loved it. I love the store. It's owned by a Black woman and she knows all of the details of the items, and exactly where they come from." And while it's lovely to look at, of course, the provenance really drew Pittman in. "There are lots of other things in my home that have an ethnic history," she notes. "This house is an amalgam of cultures, but I definitely wanted to include something that was a part of this neighborhood that's so rich in Black American culture."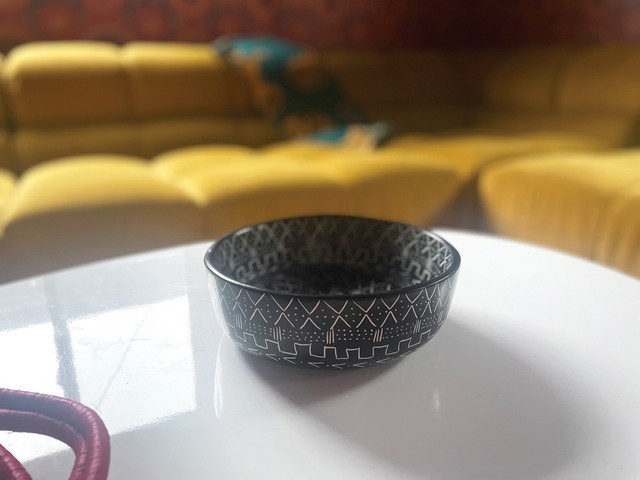 Photo Credit: Courtesy of Karen Pittman