Sipping In Style
THE MOST HOTLY ANTICIPATED COCKTAIL DESTINATIONS AROUND THE GLOBE INCLUDE A FUTURISTIC, BARLESS SPACE IN BARCELONA AND A NEW HOME FOR JAPANESE CRAFT IN BROOKLYN
Cocktail aficionados pining for the pleasures of expertly crafted cocktails served in sophisticated environs will be pleased to discover a raft of new, hotly anticipated bars and lounges.
Here's a look at some of the newest notable bars and lounges to pop up, complete with next-level libations and a side of top-notch hospitality that makes customers eager to order a second round. Some had their launches stunted or delayed due to the Covid-19 pandemic, and each is navigating its way through ever-changing health and safety protocols. So remember to be patient, tip generously, and drink adventurously when visiting these swank new places to sip world-class cocktails.
The Aubrey Main Bar and Drawing Room is one of several spaces dedicated to libations in the Mandarin Oriental in Hong Kong.

Photo Credits: Courtesy of Mandarin Oriental, Hong Kong
Europe
Dating back to 1911, Harry's New York Bar—one of Europe's oldest cocktail bars and the birthplace of classics such as the Bloody Mary, French 75, and Sidecar—has long been the quintessential home away from home for members of the global art and literary worlds visiting Paris. The family-owned bar has opened a second location in Cannes' chic Port Canto, delighting stylish French Riviera crowds by serving classic, Cuban-accented cocktails (Daiquiris, blended frozen drinks, juleps), on a spacious waterfront terrace.
Led by the internationally known mixologists Simone Caporale and Marc Álvarez, Sips is looking to disrupt Barcelona's cocktail scene with an ambitious approach blending the artistry of classic cocktails with the latest technology and trends. A masticator machine is used to mix aromas and ingredients with surprising results—an espresso martini features "coffee air" whipped with frankincense—and glass artists were commissioned to design specific vessels for each cocktail. Defying the limits of a conventional cocktail experience, Caporale and Álvarez chose not to incorporate a physical bar as a central element, eliminating barriers between guests and the bartenders.
One of Paris' hottest new drinking dens can be found near the shadow of the Arc de Triomphe, hidden behind a secret door in the newly refurbished Hotel Barrière Le Fouquet's. Le Marta Paris offers a sexy atmosphere for delicious designer drinks, and its upstairs offshoot, Le Rooftop Marta, comes alive in summer with orange trees and Italian nibbles.
The NoMad Hotel—one of New York City's most decorated cocktail addresses—has opened its first international property in a historic building in the heart of London's bustling Covent Garden. Set in the glass-ceilinged atrium, the restaurant's cocktail list juxtaposes traditional drinks with NoMad favorites and a new selection of concoctions focused on the seasonality of London. Also drawing crowds is Side Hustle, NoMad's take on a classic British pub that's housed in the building's former police station.
The Aubrey at the Mandarin Oriental in Hong Kong, features myriad signature cocktails that appeal to fans of all types of Asian and international spirits.

Photo Credits: Courtesy of Mandarin Oriental, Hong Kong
U.S.
Manhattan's Dante, a welcoming haunt serving fine cocktails in an updated, historic Greenwich Village setting, has earned accolades. Now, the Australian couple behind Dante, Linden Pride and Nathalie Hudson, have opened their first offshoot, Dante West Village a few blocks away. Set on the picturesque corner of Hudson and Perry streets, the mint-colored space features a hand-carved marble bar, with green velvet banquets, vintage lighting, and bespoke wallpaper. The Italian-accented list of libations includes Instagram-ready aperitivos and martinis served in elegant glassware to trendy spritzes and letter-perfect negronis.
Located in Brooklyn's Prospect Heights, Bar Goto Niban is Kenta Goto's second venture after the success of his Lower East Side cocktail bar, Bar Goto. The more spacious outpost (niban means "second" in Japanese) follows in the footsteps of the original—a winner of Bon Appétit's "Bar of the Year"—by placing a focus on Goto's Japanese-inspired drinks. The handsome space features walnut paneling and a gorgeous Japanese garden landscape spanning nearly 40 feet behind the bar, to sip on a meticulously crafted yuzu hot toddy, sakura (cherry blossom) martini, or oolong Sazerac, and a notable assortment of Japanese sake and shochu is offered.
Los Angeles' hottest new spot for next-level cocktails is a New York City import, and a notable one at that. Death & Co, one of the most influential and creative cocktail bars of this century, has opened its first West Coast outpost in Downtown L.A.'s buzzing Arts District. As with the original New York location, the diminutive, dimly lit spot doesn't take reservations.
The newly opened Bar Goto Niban is a handsome spot

Photo Credit: Tina B Foto
Asia
Perched on the 25th floor of the Mandarin Oriental's flagship Hong Kong property, The Aubrey features three different bar experiences in which guests enjoy Japanese craft cocktails, whiskeys, and cuisine. Part of the allure is the decor, which was designed to resemble the home of a 19th-century European art collector. A global mix of hotel guests and smartly dressed locals choose from the main bar, serving chuhai (shochu) cocktails, highballs, and new creations inspired by chess pieces and the history of chess; a Champagne and sake bar with oysters; and a four-person omakase cocktail bar where guests are taken on a unique journey with Japanese spirits, flavors, and textures.
As part of the top-to-bottom transformation of the Four Seasons Hotel Hong Kong, Argo has joined the hotel's collection of Michelin-starred destinations. The cocktail lounge's commitment to innovation and exploration permeated its debut menu, "Here Today, Gone Tomorrow," which celebrated six staple ingredients with uncertain futures: honey, cacao, vanilla, coffee, rice, and apple. Ingredients such as local honey and single-origin Malaysian cacao have been carefully sourced, and collaborations are being planned with producers and thought leaders in the global spirits industry. The first collaboration, a gin created with the award-winning Australian distillery Never Never Distilling Co., is currently being poured at the bar. Upon arrival, guests are greeted by the venue's main feature, a stunning central bar with views of Victoria Harbour.
The Ritz-Carlton, Millenia Singapore's newest drinking haunt, Republic Bar, can be found in the hotel's newly refurbished east wing, which was designed by New York City's tonychi studio. Inspired by the 1960s, the extensive cocktail menu is devoted to a narrative of historical and cultural anecdotes originating from Singapore, the United Kingdom, Italy, and the U.S. There's also a selection of 1960s-era spirits and cocktails, and this being the Ritz, an opulent, British-inspired afternoon tea experience is hosted daily.
Set in Bangkok's new, ultraluxe Four Seasons Hotel at Chao Phraya River, BKK Social Club is the latest project for lauded bar manager Philip Bischoff. Designed by the New York City-based firm AvroKO, the attractive space transports a well-dressed mix of locals and visitors to Buenos Aires, as Bischoff and his team have infused Argentinian-inspired offerings with Thai flourishes.
Japanese-inspired cocktails

Photo Credit: Tina B Foto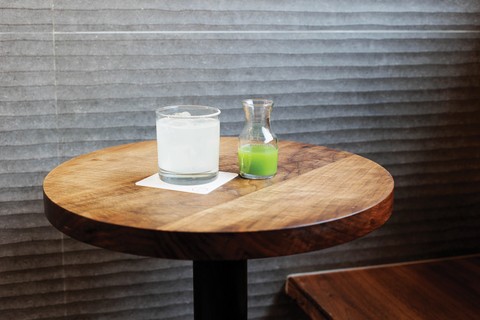 Australia
The team behind Maybe Sammy, one of the most decorated Australian cocktail destinations to have debuted in recent years, has opened Sammy Junior a short walk away in Sydney's central business district. The suave sibling, which starts out on weekdays as an espresso bar with bespoke coffee blends and classic breakfast bites, transforms into a cozy cocktail destination in the afternoons, most notably on Fridays after work, when live jazz is the highlight. Smooth bottled cocktails include a jasmine negroni and eucalyptus gimlet, offered in mini and large sizes.
Photo Credits: Courtesy of Mandarin Oriental, Hong Kong