For designer LaQuan Smith the past two years have been all about growth, opportunity, and dreams coming true. Which is something for a guy who—just over 10 years ago—was giving away his leggings on the street.
Back then, the eager 20-year-old Queens native roamed the Meatpacking District, SoHo, and the Upper East Side spotting stylish women and gifting them leggings from his backpack. The leggings were vibrant, textural, and, as the lucky women could plainly see, eye-catching—he was often wearing a pair himself.
The giveaway gambit paid off. His fledgling brand gained buzz, and once Lady Gaga showed an interest, well, things took off.
Today, the label, sold at tony online sites like Fwrd and Farfetch, is about much more than leggings. Fans, including trendsetter celebs Beyoncé, Rihanna, Jennifer Lopez, and Kylie Jenner, flock to him for a saucy mix of catsuits, super-slit dresses, and high-gloss motorcycle pants. In 2020 he launched a plus-size collection with 11 Honoré, and dove into swimwear. Last year, he snagged a coveted spot as a CFDA/Vogue Fashion Fund finalist (receiving grant money and mentorship), and nearly broke the internet when Hailey Bieber wore his beige midriff-baring halter dress to meet French President Emmanuel Macron. This year will see the release of his hotly anticipated collaboration with sports juggernaut Puma.
Smith, now 33, spoke to RESIDE® from his studio in Long Island City.
Despite a pandemic, you've achieved quite a lot in the last two years.
It's been a whirlwind. Considering what we've gone through, persevering through this period of uncertainty was a blessing and an eye-opener. I studied my consumers, trying to understand what they wanted. People also took the initiative to support designers of color and small, independent businesses, so there were many factors that allowed my business to grow. I'm blessed. I have a great team behind me that's creative, smart, and passionate about what we're doing.
The designer, was selling leggings from New York City streets just 10 years ago. Now he counts celebrities among his fans.

Photo Credit: Greg Swales
You've come a long way.
I remember back in the day I'd have a deskside [meeting] at Vogue and the first questions they'd ask were "Where are you sold?" and "Where did you study?" I felt discouraged, because when you're an emerging designer, you don't always have those accolades. [After attending New York's High School for Art and Design, Smith was rejected by fashion schools, so he skipped college and started his own brand.] I focused on what works best for me, taking my time. Obviously, winning the CFDA/Vogue Fashion Fund comes with great opportunities, getting mentorships from incredible businesspeople. I feel like I'm in college now. But I'm still focused on creating luxury experiences for women who embody the LaQuan aesthetic, which is this idea of being unapologetically sexy.
Cornering the market on sexy is smart. Sexy is never going out of style.
I realize my clothes are not for everybody. When I utilize the word sexy, I think sometimes people take it out of context. It makes people feel a little uncomfortable, perhaps because they don't feel sexy within themselves. But it's really just about strong female empowerment. It's a sexy confidence, a level of assurance. My consumer knows exactly who she is. She loves her body, she loves to shop, she loves to look good, to celebrate—that's who I'm targeting.
LaQuan Smith designs clothes that make women feel great.

Photo Credit: Greg Swales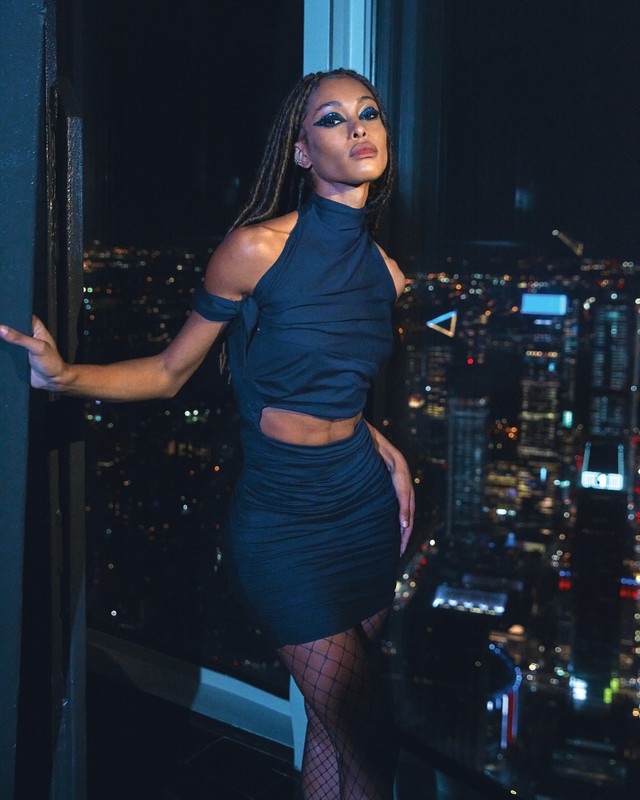 LaQuan Smith designs clothes that make women feel great.

Photo Credit: Greg Swales
What can we expect from your upcoming Puma collection?
I want to bring a chic, fun, sexy aesthetic to athleisure. They're giving me full creative control. It will be an assortment of outerwear, hoodies, leggings, crop tops, bralettes, and sweatpants, to hit the gym and then meet your girlfriends for brunch afterward. There's a demographic of women out there who will really enjoy putting on a pair of Puma–LaQuan Smith leggings and a crop top, thinking, "I look good in my gym clothes."
So you've come full circle—back to leggings.
Women come to me now for an entire outfit, but leggings is what launched my business, what I was known for. I'd pull all-nighters, making leggings, then sneak into runway shows or Fashion Week parties—or give them to women on the street. After a year of hustling and promoting these leggings, someone came up to me and said, look, if you're serious about this business, you need to take a year off and make a full collection. So that's what I did. I saved my money. My grandparents, my mom, my friends, everyone supported me, giving me money to put out my first collection. I was 21. It was a dream come true. It shows you how New York works, how it's such a melting pot. You can be rubbing shoulders with anyone. There are so many incredible opportunities right in front of you and you don't even know it.